bio
– Born in Bruges (1983), I studied violin, piano, music theory, composition and many more courses at the Bruges music conservatory. From 2002 till 2007, I studied composition at the Ghent Conservatory with Frank Nuyts, and attended, among others, classes by Godfried-Willem Raes (improvisation) and Filip Rathé (analyses and beyond). I visited different international composition seminars and master classes with Peter Eötvös, Luca Francesconi, Magnus Lindberg, Bruno Mantovani…. Besides composition seminars, I attended conducting classes/seminars with Ensemble Modern, Johannes Kalitzke, Marco Angius and Lucas Vis. In 2016, I obtained a Phd in arts at Ghent University/Ghent School of arts.
Since October 2016, I teach composition and orchestration at the Royal Conservatory Ghent.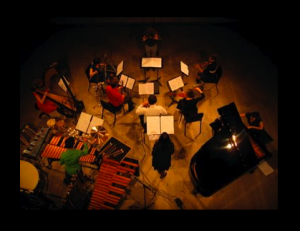 (with Nadar Ensemble in the Bruges Concertgebouw)
– In 2006, my composition for string quartet …Passages… received the first prize during the Ghent Week of Contempory Music. My compositions (…nuit cassée.), (étude scénographique), (es), (Paysages – études) I,  (…en paysage de nuit…), Les Aveugles, (…revenir dans l'oubli…) and (…dans son presque silence…) were selected by ISCM Flanders.
– I had the opportunity to collaborate with both Belgian and international ensembles and soloist, such as the Spectra Ensemble, Ensemble Intercontemporain, Aton & Armide, Ensemble Orchestral Contemporain, Neue Vocalsolisten Stuttgart, Ensemble Musiques Nouvelles, Vocaallab, Gulbenkian Orchestra Lisbon, Symfonieorkest Vlaanderen, soloist Jean-Guihen Queyras… during festivals as the TRANSIT festival, Ars Musica, De Singel, ISCM world music days 2009 (Sweden), Concertgebouw Brugge, Darmstädter Ferienkurse, Festival Musica Strasbourg 2010, Operadagen Rotterdam, De Munt/La Monnaie,…
– Since 2008, I collaborate intensively with LOD, a Ghent based music theatre production house, which resulted in march 2012 in Les Aveugles, a chamber opera after Maurice Maeterlinck. This production was made in collaboration with the Liége/Paris based visual artist Patrick Corrilon. In April 2017, my second opera was premièred, Menuet, after a novel by Louis Paul Boon, in collaboration with stage director Fabrice Murgia.
– Since 2006, I regularly conduct and perform with the Nadar Ensemble, an ensemble dedicated to new music. With Nadar, I performed at various Belgian and international locations, highlights were concerts during Ars Musica 2008 & 2009, the Darmstädter Ferienkurse 2010, 2012 & 2014, Festival Musica Strasbourg 2010 and Donaueschinger Musiktage 2012.
– Recent works include (…à suivre…) for piano and fifteen instruments, Eine schöne Müllerin, a large scale 'Doppelzycklus' for baritone and nine instruments after Schubert/Müller and (…sans rien dire…) for violoncello solo, five instruments and electronics.
– Upcoming projects include a new piano piece for Daan Vandewalle, a composition for violoncello and electronics for Arne Deforce, a new orchestra work for the Flanders Symphony Orchestra (2019), a new piece for soprano, flute, viola, harp, percussion and electronics commissioned by Revue Blanche, Muziekcentrum De Bijloke and Centre Henri Pousseur (2019/2020), a new guitar solo piece for Nico Couck (2020), a new composition for I Solisti (2020) and a new opera, commissioned by LOD (2021-2023).